Spay / neuter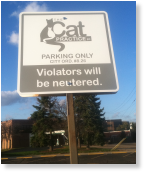 Our parking signs make light of spay / neuter, but it's one of the most important decisions you'll make for your cat.
Spay or neuter is necessary and essential to any cat's health and wellbeing. Spayed and neutered cats live longer and are at less risk of serious health problems such as breast cancer in females and testicular cancer in males. Spay/neuter also reduces unwanted behaviors such as spraying and wandering.
We recommend that your female cat is 5 to 6 months old and 5 pounds in weight before spaying and that your male cat is 4 to 6 months old before neutering. See What every Feline Family should know: Spay/neuter saves lives. See more on cat Spay/Neuter and Medical/ Surgical care.
As with any surgical procedure, we make sure that your cat is provided with:
Pain medication during and following surgery

IV fluids during surgery (for females who are at risk of a drop in blood pressure)

Careful monitoring of:

Blood pressure

Oxygen in blood

Heart rate

Temperature
"Today, any cat that is not part of a reputable breeding program should be spayed or neutered. It's healthier for the cat and helps reduce the growing number of homeless pets."
- Dr. Cindy Houlihan
If you have stray cats that you would like to have sterilized, or if you do rescue work, save money on spay/neuter by going to a low-cost spay/neuter clinic. See our information piece on Spay/neuter resources.