Kitty Camp Boarding
The Cat Practice Kitty Camp offers a variety of new housing units complete with perches and portals allowing access to adjoining units. These spacious units can accommodate multiple cats who board well together. These housing units are available at no additional charge on a first-come-first-served basis, so book early!
Register your cat.
Simply complete our form: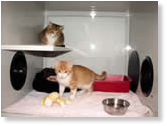 Our Kitty Camp Playroom provides an interactive and stimulating environment for your cat to exercise and play in each day. It has custom-built shadowbox steps, carpeted cat walk, ramps and a large window for kitties to soak up some sun. The playroom also has cozy cat furniture, scratching posts, tunnels, heated beds, and many enriching toys to keep kitties busy and amused. Your kitty will also enjoy the wild bird sounds from our playroom stereo.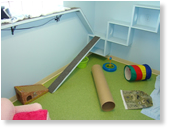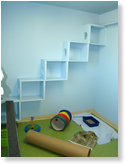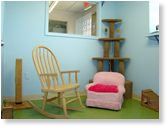 Our Kitty Ad-vo-Cat and veterinary nurses care for Kitty Camp guests as if they are their own pets. All guests receive:
Frequent attention, playing and exercise.

Log of daily appetite and elimination.

Fresh litter provided several times a day or as needed.

Your cat's regular food. (See the many foods currently available in our Kitty Camp Available Cat Foods (to come).

Freshly laundered towels along with a "cuddly" for
nap time.
If your cat is on any type of medication, it will be provided by a veterinarian or veterinary nurse.
Important Note:
In spite of strict adherence to sanitary, anti-bacterial and anti-viral cleaning protocols, airborne respiratory viruses in cats are difficult to control. We require vaccination against the most serious viruses, but as with humans, cats sneeze and spread common germs in the air. If your cat has been sneezing, please inform us before boarding your cat so that we can arrange for a special ward for your pet. If you note nasal or eye discharge, lethargy, or decreased appetite/thirst, we recommend an exam. If you notice sneezing after boarding, please contact us immediately.
Read more about Kitty Camp, including tips on preparing for your cat's stay and requirements for our feline guests, in Cat and Kitten Boarding.
Kitty Camp boarding Day Rates:
| | |
| --- | --- |
| Without medications/treatments/evaluations | $27.50 |
| With medication/treatment/evaluation provided Once per Day | $33.60 |
| With medication/treatments/evaluations provided Twice per Day | $39.50 |
| With medication/treatments/evaluations provided Three Times per Day | $41.50 |