Who we are:
The Cat Practice, opened in 1981, is Michigan's first cats-only veterinary hospital providing advanced preventative and medical care with an emphasis on early detection to help cats live longer, better and healthier.
With early detection and the right preventive care, cats are living 20 years and more. These complex and sensitive creatures are masters at hiding their illness. So spotting warning signs early is essential in helping families make good choices about their cat's care.
Located in Birmingham, Michigan, we care for mixed breed and purebred felines from around southeast Michigan. Our highly trained feline veterinarians and veterinary technicians follow the highest quality standards of the American Association of Feline Practitioners (AAFP), and work closely with cat families to help choose the best possible care.
The Cat Practice is open seven days a week and evenings. See more on our hours & location.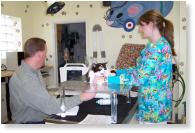 Veterinary Cardiologist Dr. Bill Brown (left)
conducts an echocardiogram to check patient
heart health with Veterinary Nurse/Licensed
Veterinary Technician (LVT) Tabitha Owens.
Payment is due at the time services are rendered. We accept Credit cards ( Visa, MasterCard, American Express, Discover), Care Credit, personal checks and cash. If you have pet insurance, we are happy to help you complete the necessary forms for reimbursement.
---