In memory of Ozzie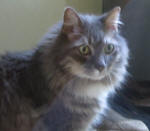 Ozzie loved his family: pet parents Chris & Mark and kitty companion, Bailey. He was a beautiful boy who loved to sun himself in the window. He is greatly missed by all who knew him.
Linda Wasche
---
Comments and Condolences
Ozzie was the sweetest boy with the most loving of parents. All his friend at The Cat Practice miss him very much. -- Cindy Houlihan
To add your comments or condolences, please fill in below.
You can also make a donation in memory of this pet to the Rufus Memorial Feline Fund (a certified 501c3 non-profit). Please click below to do so.